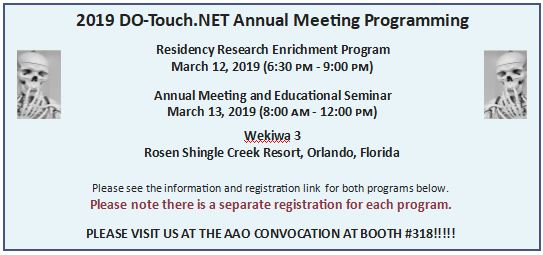 2019 DO-Touch.NET Annual Meeting and Educational Seminar
REGISTRATION OPEN NOW
Just prior to the AAO Convocation, DO-Touch.NET will host our Annual Meeting on Wednesday morning (March 13, 2019; 7:30 AM-12:00 PM) highlighting the research activities, study results, and new initiatives developed by the network. Earn up to 4 category 1-A CME credits. The full program schedule is below. Registration fee for non DO-Touch.NET members is $150, registration is free to all active DO-Touch.NET members (those members that have contributed data to a DOTouch.NET research study), and current registered members will receive a 50% discount.
CLICK HERE

for more information and to register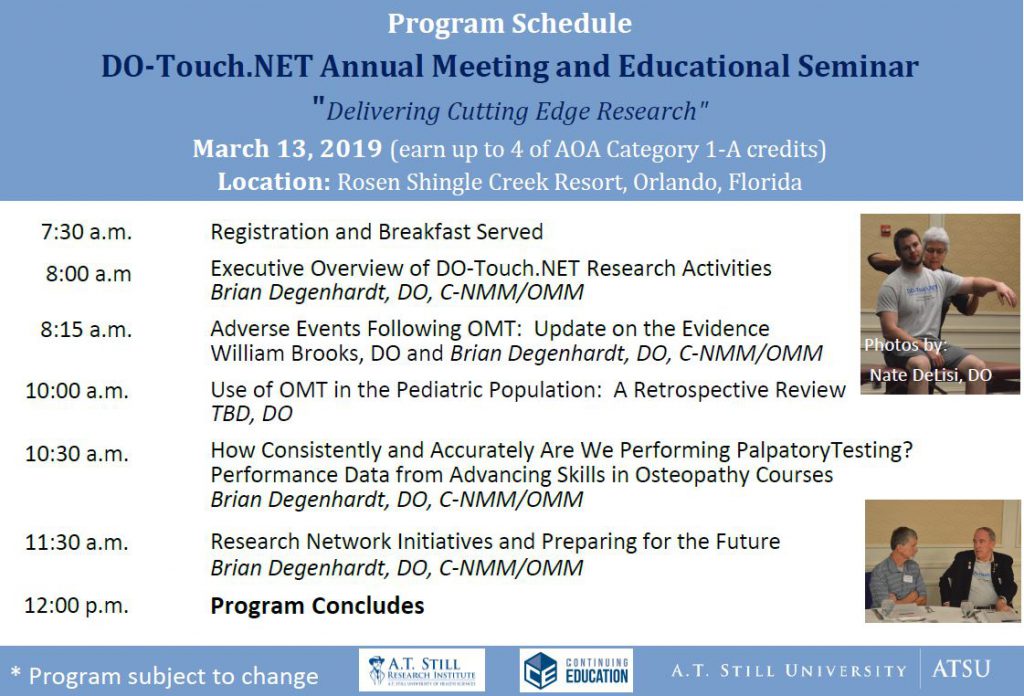 RESIDENCY RESEARCH ENRICHMENT PROGRAM
INFORMATION & REGISTRATION LINK
Occurring just prior to the AAO Convocation on Tuesday evening (March 12, 2019; 6:30 PM—9:00 PM at the Rosen Shingle Creek Resort in Orlando, FL), DO-Touch.NET will sponsor a special enrichment program highlighting novel approaches to advance research capacity within osteopathic residencies. This is a free catered event for current residents, residency program faculty, and DO-Touch.NET members who want to learn how to successfully overcome the challenges of conducting meaningful research in a residency program and who want to fulfill some of the new ACGME requirements for scholarly activity. Program details and more information is located in the agenda below.
Please Click Here to register.