August 3-5, 2018, in Kirksville, Missouri
Course Description (Opportunity to earn 20 AOA Category 1-A CME credits)
Targeting DO-Touch.NET members, this Advancing Skills in Osteopathy (ASO) Program is a novel continuing education program that provides participants the most advanced series of training courses in palpation, world-wide. The goal of the ASO program is to provide objective feedback using state-of-the-art instrumentation to assist motivated and skilled clinicians in osteopathic principles and practices. This course will refine and standardize participants' skills and provide a personal, motivational experience of the osteopathic legacy. The ASO program features extensive hands-on training dedicated to providing objective feedback on the accuracy of each participant's palpatory skills. Participants will develop strategies to improve performance and interpretation of techniques through mentorship with faculty, peer critique and self-directed learning with calibrated models
Learning Objectives:  After attending participants (DO-Touch.NET members) should be able to:
evaluate their skills using objective feedback while performing two classes of diagnostic tests commonly used in manipulative medicine:  positional asymmetry and vertebral motion tests.
evaluate their intra-examiner reliability and identify the factors to improve and sustain high levels of reliability.
describe the issues related to poor inter-examiner reliability.
improve consensus with other practitioners in nameing and recognizing somatic dysfunction and different OMM techniques.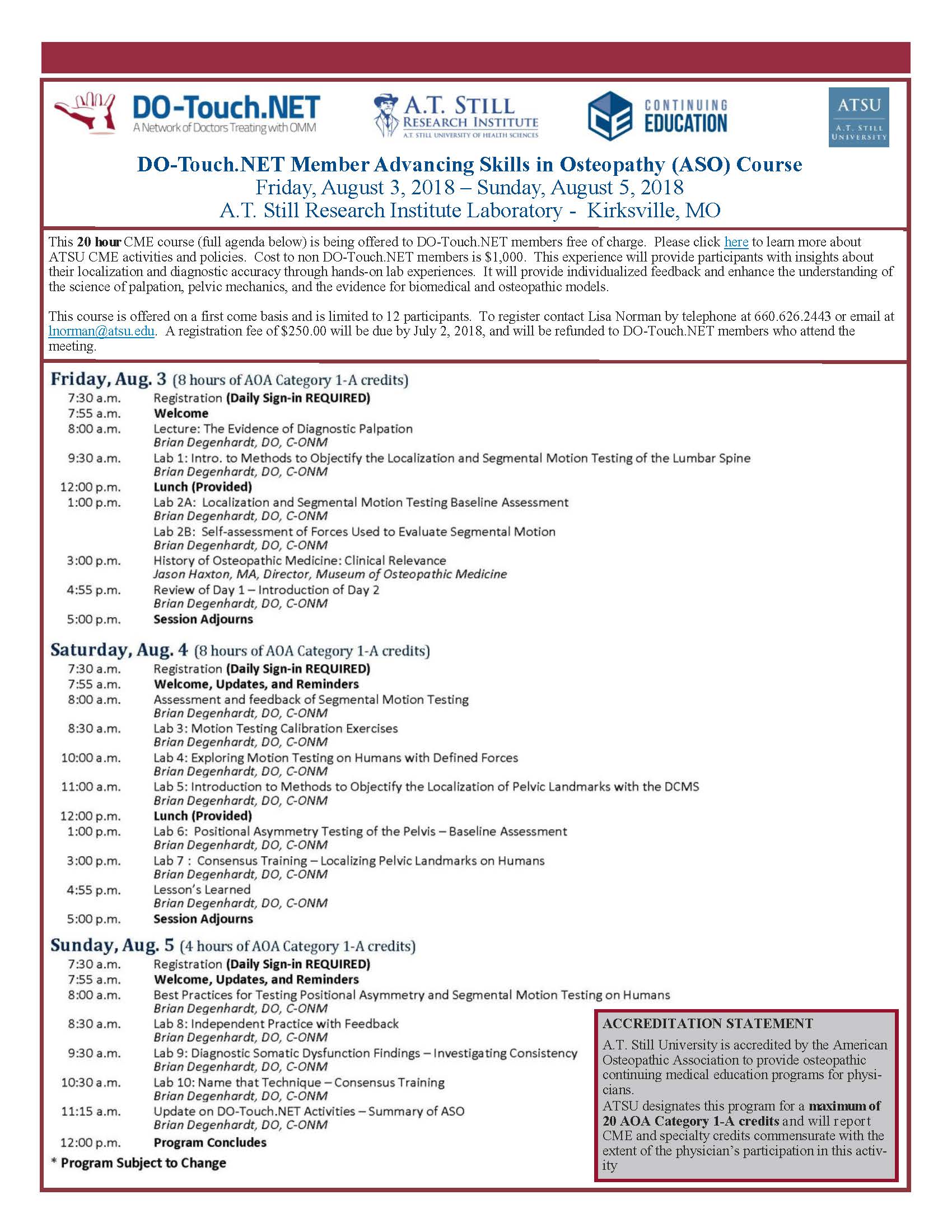 Professional Practice Gap
Current evidence questions the reliability and validity of diagnostic and therapeutic palpation. Therefore, practitioners of OMT need to become aware of objective characteristics that will help advance and improve their palpation skills. Without objective feedback to calibrate palpation accuracy, it is possible that practitioner's skills become skewed over time. Through this program practitioners of OMT will increase their knowledge, understanding, and awareness of their manual medicine skills and will learn ways to refine their skills and be better at performing manual medicine diagnostic procedures, which will improve patient care and research within the field of osteopathic manual medicine.
Educational Need
Palpatory skills need to be assessed and evaluated, especially over time as practitioners become engrained in their own techniques. As new technology has been developed to assess these skills, practitioners would benefit from re-evaluation of their performance in the clinical setting using this new technology.
Desired Outcomes
After attending participants will be able to evaluate their own intra-examiner reliability and the factors that sustain high levels of reliability. They will also be able to discuss the problems with diagnostic palpation and distinguish between subtleties of various manipulative techniques and the necessity for accurate identification and documentation of OMT interventions.
Please click here to view ATSU's CME Policies.